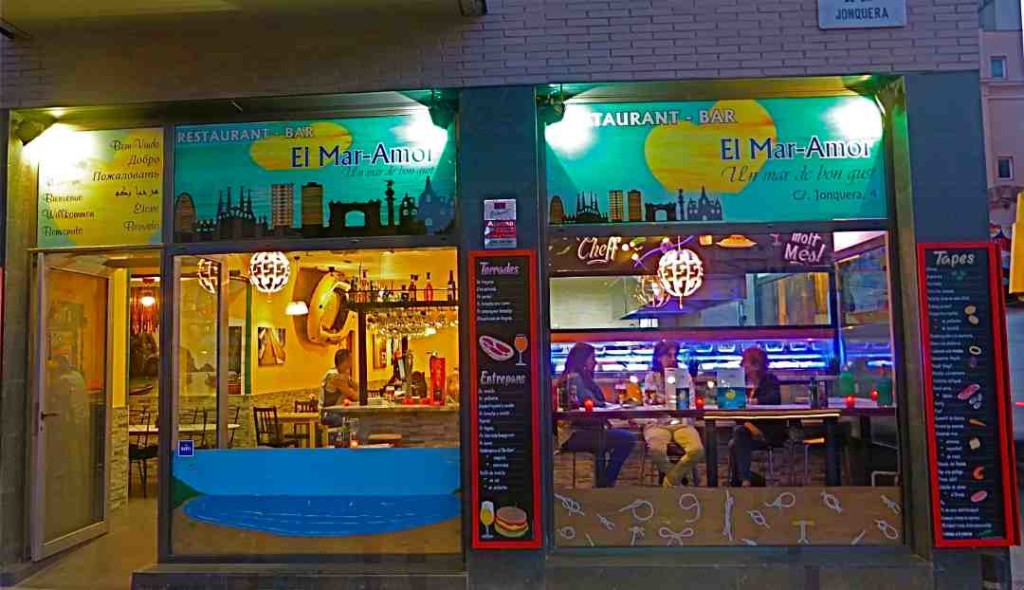 If you are staying at the Marriott hotel at the end of the Diagonal St you can easily walk or get off the Poblenou exit of the metro in Barcelona like the Dude of Food did and make your way to the cities newest quality restaurant, El Mar-Amor.
The place is newly opened, mid May 2015, and was already doing a decent morning and evening business 4 days into it. Owner, manager and great host Hamid has put together a really great place to get to know.  Hamid knows how to create and entertain. His hospitality is top notch and genuine. Let me give you some examples,
"Come in. If you don't like it you don't pay." I heard an offer I couldn't refuse, so I came in and asked for a beer. They had cold Estrelle Damm on tap.
When I told him I only had 20 euros on me and the paella was going to be 18 euros he said "no problem". "but I already spent the other 2 euros on this beer and I want to drink more" the Dude of Food replied. Again Hamid replied, "no problem" and filled my empty beer glass. He then explained that "the paella is made fresh to order and will take at least 20 minutes but is only made for 2 people. It's 9 euros each and the chef makes it for 2 people."  "No problem" said the Dude of Food. I reached in my pocket and gave Hamid the last 20 euro bill i had in my pocket.
Hamid took my bill and smiled, "we will take care of you" and he was true to his word. Hamid's team prepared an awesome paella for 2 and filled my beer glass 4 times. The paella was served in a giant 14″ hot dish and was devoured by the Dude as soon as it had cooled enough to eat.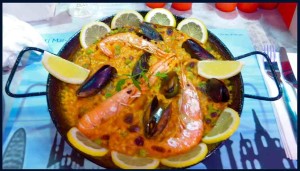 Hamid and his team took great care of me again when I returned for breakfast. They made me fried eggs, with ham bacon and some fried potatoes and coffee with milk. Hamid even left his bicycle for me to borrow. They offered to stay open past their normal 12:30a close if our crew wanted to stay and drink until 2am. The hospitality of Hamid just didn't stop.
Located at Carrer Jonaquera 4 in Barcelona, and only a long block from the ocean near the Poblenou metro exit, The Dude of Food returned 6 times and tried nearly everything on the menu, all fresh and all delicious. The future is bright for this rising restaurant star and if you are in the area you need to have a meal at El Mar-Amor of Barcelona.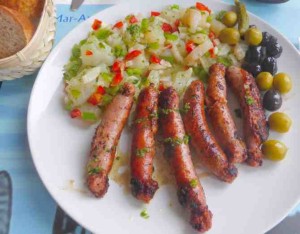 (the sausage is made local and is delicious with eggs)