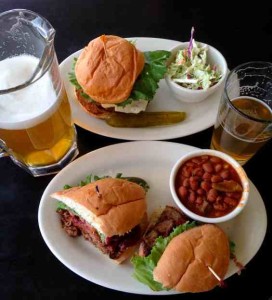 The Dude of Food went to visit Tucson, AZ. After mom's haircut we went to lunch at this place on the bluff. As you can see be the accompanying photo the view from McGraw's Cantina is amazing. The tables on the outside patio look south over the east Tucson valley. If a gang of the old west outlaws was riding in from New Mexico or up from Mexico, you would see them way before they would see you from here.
  The place opened at 11 and they had a Tucson blonde ale on tap. The McGraw's Cantina menu is full of good things to choose from and the two girls working there were nice. It turns out McGraw's hosts a steak night special on tuesdays. This place is a party waiting to happen.
  Mom ordered a burger that looked awesome and a coke the waitress was happy to refill. The Dude of Food asked for the BBQ Tri-Tip sandwich and another Tucson blonde ale. The food was really good.
  There are many restaurants in Tucson but McGraw's Cantina may host one of the best. They have a lot of party space plus plenty of parking and would make an awesome place to do an Arizona Octoberfest BBQ rager.
  Check it out.