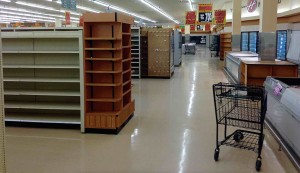 When the Dude of Food walked into this closing local southern California market he didn't expect to feel like he missed the party. There is something really ominous about walking around an empty market. Even if you are full from just having eaten, this sight has a way of making you feel hungry. Even now when I look at the photos I feel myself getting hungry.
The Dude of Food found his mind racing as he wandered around the desolate market while enduring hunger pains. As he walked through this empty space he begin to think maybe everyone already knew something that he didn't and they  hurried out for a solid reason.
I had to remind myself to not touch anything, don't breathe deep and certainly do not rub my eyes for fear of getting kooties. I saw enough as I begun to realize I was in the back of the place and held my breathe and swiftly walked to the exit.
The Dude of Food has always wanted to run a market and would love to have a small store of empty shelves to stock with quality goods for the neighborhood.