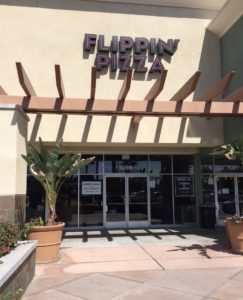 If you are a pizza lover, like many folks who now live in Los Angeles are, then you will be happy to know the Dude of Food has picked up where the LA Weekly Best Pizza Search has left off in the search for Southern California's Top Pizzas and has found another contender for the Top 10 Pizzas in the Area list at the Flippin Pizza location.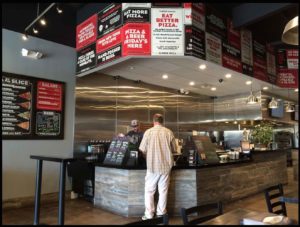 Upon entering Flippin Pizza it is apparent the place is fresh and clean. A friendly staff member greeted and informed me of the daily specials. The nice staff member turned out to be the owner, Anthony. We chatted and I learned that the restaurant had been open since August 2015 at 6269 East Spring Street, Long Beach.
They offer daily pizza specials and also offer a happy hour from 3-6p with $4. pints. (Hello, Pizza, Beer & NHL Hockey!) Besides carefully crafted pizzas you can find really nice salads too. The lunch specials offer various versions of slices, salads and drink options.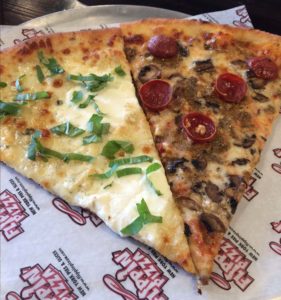 The Dude of Food tried a slice of the 4 Cheese and a slice of the Little Brooklyn and was satisfied with both. The crust is thin and lite. It is not all rubbery and sweet which is a good thing. Both slices could have been a little greasy but both showed signs of very little accumulation on top.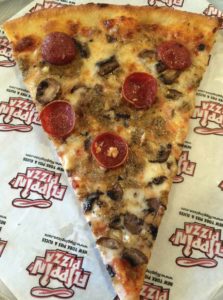 The two slice and a drink lunch special will run you $6.50 and will satisfy your pizza craving for the time being. Flippin Pizza is Dude of Food approved and will be appearing on the list of Top 10 as the survey works towards the Top 5 round.
If you are craving pizza in the Long Beach / Lakewood area give Flippin Pizza a call and have something delivered.  562/421-1111  http://www.flippinpizzalongbeach.com
The Dude of Food email – weallgottaeat on g mail