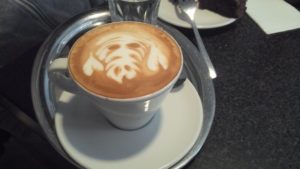 https://www.yelp.com/biz/butter-münchen     According to Dude Food G. on Yelp, this Butter place found on Blutenburg Strasse in Nuehausen, Munich is really cool. You know right from the beginning that this is not your normal everyday cafe. Butter is the diamond in the ruff waiting to be discovered. This place has babies, art, coffees, music, food and is full of life's positive vibrations. These guys are a couple of psychologists dressed as music loving ravers.
If you just need a coffee to blow out the cobwebs from the previous nights Augustiner Helles, then Butter is perfect. If you need a veggie or meaty sandwich to go with your coffee than Butter is perfect. If you need a ginger, apple, carrot fresh juice than Butter is perfect. If you need a shoulder to cry on and a doorway to block than Butter is probably not for you.
Stop in and say "Aloha dudes" to the guys from Butter from the Dude of Food.
Butter
Blutenburg Strasse 90
Nuehausen, Munich
         Open 8am              http://alles-butter.de