There was a long time that the Dude of Food would not ruin a beer with tomato juice. Then I grew up and learned something. After a trip to San Miguel de Allende, Mexico a few September's ago my mind was forever changed. It was the time of the annual Revolution Fiesta and San Miguel is where it began.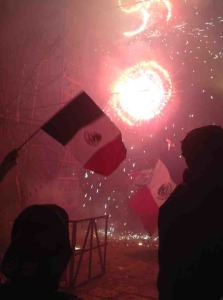 The place goes nuts.
    To make a long story short I love a homemade michelada and it appears that many others do as well since the big brand brewers are beginning to see the light. These 2 were chosen because they were both brewed in Mexico and imported to the US.
   The Dude of Food decided to compare the Tecate Michelada DIABLO to the Modelo CHELADA. I have had a few of these Modelo CHELADA's and they are OK.  When compared to the Tecate DIABLO though, a world of difference unveils itself.
   The DIABLO is softer with a more subtle tomatoey and mildly spicy finish. Compared to the Modelo CHELADA which hits the tongue a bit cleaner and crisper, albeit less tomatoey and the finish falls of quickly.
   After tasting separately, what the Dude of Food ended up doing was to mix the 2 equally and drink them that way. The crisp beginning and the tomatoey spice finish were a great combination.
Any responses should be submitted to the Dude of Food –  weallgottaeat(at)gmail