Raised in Mendoza, Argentina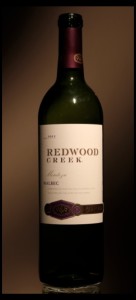 Imported by Redwood Creek Winery, Modesto, CA
www.redwoodcreek.com
I wanted to like this wine but felt it was just not quite as good as the
Robert Mondavi PS  '11 or Sensual '12. Not sure why. Same grape,
same region, same year.
This wine's taste was much like the Sensual and Mondavi but there was a slight
shift that did not work in the Redwood Creek's favor. The price is about the
same so if I had my option, I'd choose the others.