Grown in Mendoza, Argentina.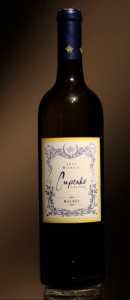 Imported by Cupcake Vineyards, Livermore, CA
Grown at 2,400 feet under the shadow of the snow covered Andes mountains,
this Mendoza region wine is more talk than action. The flavors mentioned on
the back of the label mention flavors of plums, raspberries and a dark chocolate
flourless cupcake. Really?
Priced in the reasonable to cheap catagory, but you get what you pay for in this case.
Prefer the Sensual or Robert Mondavi over this Cupcake.