If you like to be refreshed with a delicious fresh squeezed orange juice mimosa, then you need to get yourself over to the Border Grill in Santa Monica one of these weekends. Bartender Geronimo will keep an eye on your glass so you can concentrate on what awesome dish to order next.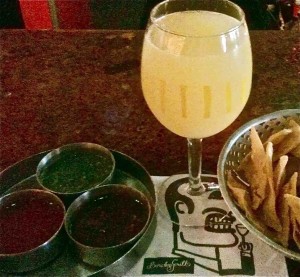 Once you get your whistle wetted, it's time to settle into an entree section with some incredible dishes to choose from. Chef Alex prepares these dishes with a full spectrum of forethought and care. The meats are naturally raised. All of the produce is organically grown on local farms.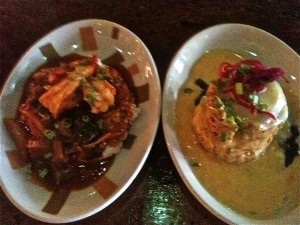 The shrimp grits were pretty good and a great way
to begin. The shrimps were big and they had a
cajun taste to them that reminded me of Drew
Brees and the Saints. The Yucatan eggs benedict
stoked my taste buds pretty hard. The flaky crusted
bisquit was light and perfect.
The next thing I had was another mimosa,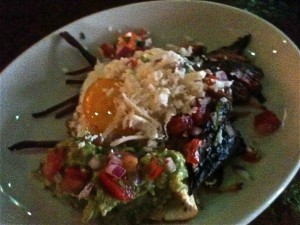 and the steak and eggs. This experience was cool.
It seemed I just couldn't go wrong.
The beef came and reminded of that delicious
skirt steak from the Brazilian steak house. It was
tender and tasty with a perfectly cooked egg on it.
I was loving it.
Geronimo brought me another mimosa and chef
Alex made some machaca chilaquiles for me. I was
having a really good time just hanging out and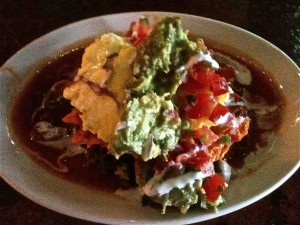 enjoying really delicious food.
The chilaquiles and mimosa came and my day
just kept getting better. The tender chunks of beef
were in a tasty sauce with guacamole, light eggs
and pico de gallo. Delicious.
The next thing I tried were the Oaxacan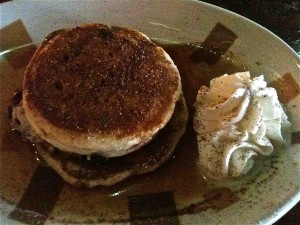 pancakes. These were super yummy. They were
light and had mexican chocolate chips and coffee
caramel syrup with whipped cream on them. Like
I said, they were really good.
The staff at the Border Grill is amazing. I have
tried both the downtown and Santa Monica spots
and have found everyone to be really friendly and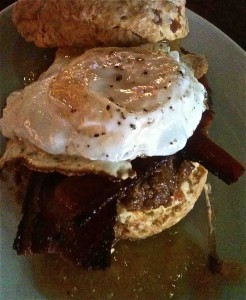 knowledgeable.  This proved true again and my
crush on the Border Grill became stronger.
The next item i tried was the peanut butter & jelly
with bacon, egg and jalepeno sandwich. It was not my
favorite thing, but I have to say it was pretty good.  Standing
on it's own it was good, but the other dishes were just so
tasty that they all couldn't be the best.
Chef Alex came out and introduced himself and was
was another really nice person from the Border Grill tribe.
He was real cool, knowledgeable and hospitable. He let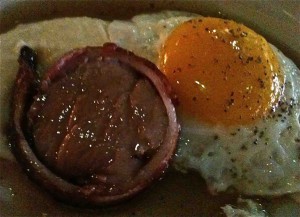 me in on a secret and made me the daily special
'special' which was a pork tenderloin wrapped in
bacon with an egg. Again my tastebuds danced
and my good time continued.
The level of awareness is respectable. These
folks have earned their places and alot of thought
and preparation goes into this operation to ensure
your good experience.
A friend of mine arrived and she tried some of the things i hadn't so I tasted the bisquit and gravy and
the bread pudding french toast. The french toast is another favorite.
This brunch happens in Santa Monica from 10am-3p and if you like food or mimosas, then the Dude
highly recommends you give this a try.  If you don't like this you're still a caveman. Satisfaction
guaranteed.